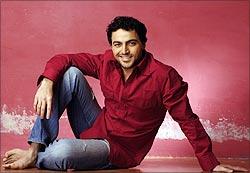 Ayaz Khan, who made a debut into bollywood with Jaane Tu Ya Janne Na and also seen in the hit television show Dil Mil Gayye had taken a break from tv. On-screen his character Dr. Shubankar was out on honeymoon with Dr. Kirti.
Dr. Kirti is back but where is Dr. Shubankar??? Well TellyTadka wondered the same and called up Ayaz to know more. Ayaz told TellyTadka that he is currently busy shooting for two films. One with Apoorva Lakhia and another with Esha Deol.
When we asked about his return in Dil Mil Gayye, Ayaz replied saying that currently he has no time to return due to his two films which are not yet completed. He says he would love to come back as he does his the whole unit, but he is enjoying his bollywood career. We asked Ayaz about what his thoughts were on bollywood and television. For him bollywood provides quality work, while television is a controlled media.
For more about Ayaz's films and latest news, stay tuned to TellyTadka!